The Arizona Women's Partnership, Inc. is an all volunteer philanthropic non-profit organization dedicated to promoting the status of Arizona women and empowering women's grass roots organizations through mini grants and publicity. The organization is non-political and non-sectarian, and is sensitive to the needs of underserved and disadvantaged women and their families. Proceeds are generated from FUNdraisers and through corporate sponsorships and private donations.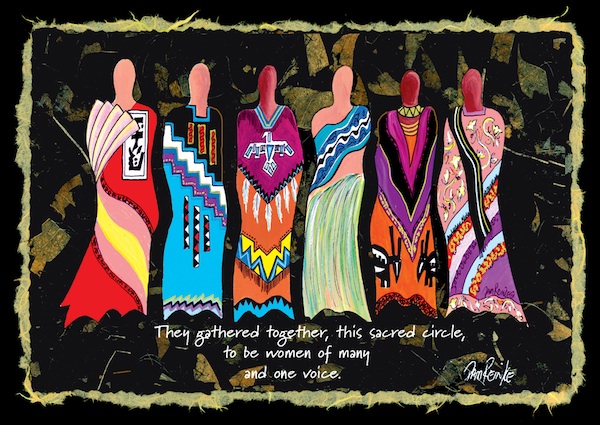 Art by Pam Reinke of Piper Rain Press
Events & Updates
A message of thanks from some of AZWP's donors. Kudos to Levi Elizaga for taking the time to film and edit this video.
AZWP was featured again in the Moon Valley Tattler. You can find the article detailing the $15,000 gift from The Violet M. Johnson Family Foundation here.
Yes, we can do it! is a photojournalism project of the Arizona Women's Partnership by photographer Tracy Rasinski. The project is funded by the Arizona Commission on the Arts, National Endowment for the Arts and the Gap Foundation and profiles beneficiaries of the AZWP grants. The project's original blog can be found at www.yeswecandoit.blogspot.com.
The exhibition was displayed in the ASU West Fletcher Library in Phoenix through November 30, 2011 and is currently at the Sun City Library at 99th Av & Bell Rd. Click here to view the flier designed by Dereck Bermudez.
Below are some of the photos from the reception by Levi Elizaga.
For information about the 1985-Year for All Arizona Women project (an Arizona Centennial Legacy proposal), please e-mail azwpinc@aol.com.
Women of Courage, historical photographs of 48 women with biographies in 72 free standing frames, is available for loan.
AZWP supports the plans for a 5th Women's World Conference in 2015.
The Arizona Women's Partnership Humanitarian Award is presented to outstanding individuals who use their professional expertise to make our community aware of issues facing women: sexism, racism or social injustice.
2009 AZWP Humanitarian Award honoree: Jana Bommersbach
Jana is an author, columnist, commentator. Find her at www.janabommersbach.com.
2008 AZWP Humanitarian Award honoree: Mike Watkiss.
Read more about this AZ TV 3 investigative reporter here.